OK....first things first....HOW DO I EDIT IN BLOGGER?! I just had a nice looking layout, type, and even color. Now NOTHING is working! What am I doing wrong?! *vent*
The following ramblings are thoughts that have been going through my head mainly on my role as a child of God, a wife, and a mother. The main reason for me to write this out is just to clear some thoughts, organize what's in my head, and serve as a sort of accountability for myself. I encourage you to join in if you have any comments, tips, or ideas. Thanks! :)
I feel that God has been challenging me through so many different avenues with in the last couple weeks. I don't know how or where to put my thoughts down right now. I feel somewhat scattered brained, but also feel the most peace I've ever felt in a long time.
Jn. 14:27 Peace I leave with you; my peace I give to you. Not as the world give do I give to you. Let not your hearts be troubled, neither let them be afraid.
Phil. 4:6-7 Do not be anxious about anything, but in everything by prayer and supplication and thanksgiving let your requests be made known to God. And the peace of God, which surpasses all understanding, will guard your hearts and your minds in Christ Jesus.
I don't know if it's the combination of joy and contentment, a renewed spirit and trust, or just sweet reunion and everything wrapped up all together in one. But God has been and IS good at restoring and reveling Himself to me in ways that I've forgotten about, and in ways I've never even considered. He's brought people into my path that has helped me to learn and grow, and He's helped me in reminding me of the others that have been in my life forever and their sweet example that they have or have had in my life.
2 Cor. 5:17 Therefore, if anyone is in Christ, he is a new creation. The old has passed away; behold, the new has come.
So please bear with me as I try to explain or share what God is doing in my life. It may seem very simple to some. I've never been someone that could explain what's in my head. Communicating how I feel or wanting to express something clearly was never my strength. I'm still growing in this process of wife/motherhood and especially in my Christian walk. I like to say I've always had a sweet personal relationship with my Savior, but not till just recently, do I truly feel like I've found that 'sweet spot.' That rekindling, reunion I was talking about. And I think a lot of it had to do with my mindset of who I really am as a wife and mother. I've had to re-think some things through and come to realize my ministry and my calling for the RIGHT NOW in my life. (Which I plan to talk about more in another post.)
Ps. 1:3 He [she] is like a tree planted by streams of water that yields its fruit in it's season, and it's leaf does not wither. In all that he [she] does, he [she] prospers.
I don't want to forget this, or lose it. I want this feeling to stay. So as I start going through this process of bearing my thoughts, soul, and feelings to the world, (or the few that read this) maybe this will mainly just help serve as a way to keep me accountable in my walk. Maybe it can be a help as a challenge for all of us to find that sweet relationship we either once had or want to have.
Ps. 1:1 Blessed [happy] is the man who walks not in the counsel of the wicked, nor stands in the way of sinners, nor sits in the seat of scoffers; bit his delight is in the law of the Lord, and on his law he meditates day and night.
As I reintroduced myself back into the blogging world, I dove into the 'Christian mommy side of things' and found some really awesome ladies that have really encouraging blogs and topics with awesome resources. I thought I'd list some of the ones that I've personally enjoyed.
DoNotDepart.com has some great bible study topics for moms/women. I really enjoyed going through the names of God under the Scripture Dig section of their website. Just recently I started going through their Winter Bible Study called "Run to Him" where we are exploring Psalms together.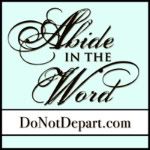 GraceFullMomma.com is going through a series called "Cultivating a Heart for Motherhood." The series goes through the significance of motherhood, some obstacles in motherhood, anger and patience, and more! I've been blessed through this series and challenged through the printouts provided.
LivingDevotionally.com is a part of DoNotDepart.com (Most of these blogs are somehow connected either by authors, groups, books, etc…). Through this site I found an AWESOME book that has challenged me with my devotions. I'm still reading it and wish I had a hard copy. It just seems harder for me to read a book through my phone or computer. But what I've read so far has been great! It's called: "Savoring Living Water: how to have an effective quiet time"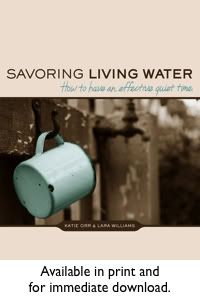 TheMOBSociety.com For Moms of Boys, by Moms of Boys. A great site on mothering boys. They have some great looking books that I've already purchased for my kindle app, but still haven't gotten the time to read them. I can't wait to start!
InspiredToAction.com is where I found a great (free) ebook called, "Maximize Your Mornings." "This ebook [is] to help busy moms like you create an effective and life giving morning routine." Through this short book, I was challenged to write out my plan for my morning schedule. (Which, I will be sharing later in another post.)
Because of all these great sites and openness of these Godly women, one of the biggest things that has helped and is such a HUGE encouragement is this:
knowing that I'm not alone in this motherhood thing.
I'm not alone in wanting to know my God more. We all struggle but desire to be closer to our God more than anything else.
And the tighter we cling to Him, the better we can and will be at this wife and mothering thing He has called us in to
. Getting up early (my struggle) is not an easy task and it takes time and effort and realizing that we need to fully rely on Him for the grace and strength each day.
It just takes coming to Him and asking
.
Another thing that God has challenged me was on my prayer life. I like to journal my thoughts, but I felt like I should give praying out scripture a try! I've been really enjoying this. Here are some prayer sheets with Scripture on praying for our kids and husbands each day (and other great resources): http://inspiredtoaction.com/resources/
I can really see God doing a work in my son's heart. He's sensitive to and understands the Bible stories and likes to retell the stories after question and answer time. Just this past week we went through the story of sin in the Garden of Eden. I was so cool to see his mind work around the concept of God not allowing disobedience and how there's consequences because of our disobedience. Now, if you just come up to him and ask him to tell you the story, he might say something like "God tricked Eve," or "Satan said the fruit was bad..." Understand, these are new concepts and we're working on it! ;) But it's cute to hear him try!
back on topic....
So through all that, (the finding of resources, encouragement, challenges, and a new sense of my mission as a wife and mommy...)I knew I had to change my morning schedule. That will be my next post. I'll share my schedule that I've created and how it worked out for me this past week. My goal is to stick to it for at least two weeks and see where I will need to go from there.
I hope that you enjoyed reading this post and maybe even found some new resources that will encourage you to grow as it has for me. I felt the need to share because I know how discouraging and hard motherhood can be at times, especially for young moms. I may have it easy now, as I'm only dealing with one set of little eyes, hands, and ears, soon to be two….and I may not have the experience of a mother with 12 children, but I do know that even with just one....
any knowledge of others dealing with the same things helps!
So....
How about you? What has been your greatest challenge as a Christian, wife, and/or mommy? How do you keep you walk consistent? What kind of books, resources, blogs, or websites do you go to for encouragement? Any advice, tips, and/or ideas for young moms who may be discouraged? What helped you to stick with your morning routine/quiet time?
Too many questions?! :)
Silly faces with mommy!
Linking up over at:
http://www.thesefiveofmineplustwo.net/